On Saturday, September 17th, 2016, a group of Lawliners ventured to Prospect Park for the 12th Annual Race for the Kids - part of Nickelodeon's Worldwide Day of Play.
The event, sponsored by Big Brothers Big Sisters of NYC, hosted over 4,000 people and raised close to $500,000 to provide mentorship services to children all around NYC. Prior to the event, Lawline held our annual bake sale to raise money for the race. We brought in over $300 selling our homemade goodies to people throughout the building, and our total contribution was $531.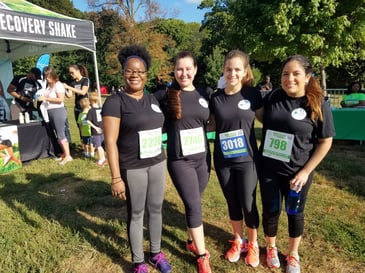 Our walking team consisted of Ann, Kathleen, Meredith C., and Alejandra, while Meredith D. ran the race (and set a personal record for her time!). We had perfect weather to walk through the park, and it was wonderful, as always, to see so many young kids having a blast with their Big Brothers and Big Sisters. At the end of the race, the park was full of activities for the kids – bouncy castles, climbing walls, music, and more – that made all of us nostalgic for childhood.
All in all, it was a great day in the park to spend time with coworkers and kids, and to exhibit the core values of Play and Care!