Best Selling Author Hal Elrod Brings The Miracle Morning to FurtherEd
Michele Richman
| May 22, 2014
Last night FurtherEd hosted its first event in its newly renovated collaborative downtown work space with motivational speaker and best selling author Hal Elrod. Hal shared his personal struggles which led him to discover and embrace what he calls "the not-so-obvious secret guaranteed to transform your life." Speaking to a packed room, Hal told the story of when he was hit head-on by a drunk driver and another car at 70 miles per hour. There was not a dry eye in the room as he told the part when his best friend called his parents from the scene of the horrific accident not knowing whether Hal was alive or dead.
In fact, he did die for 6 minutes, spent some time in a coma, suffered permanent brain damage, was told he may never walk again, and then miraculously was walking in physical therapy within 3-4 weeks. What helped him keep a positive attitude throughout his stay in the hospital was 2 mantras from his training as a salesman, "Can't Change It" and "The 5 minute Rule". "Can't change it" refers to whatever happened in the past can't be changed so Hal needed to accept his injuries and think positively about his future. "The 5 minute rule" meant he could only bitch and moan about something for 5 minutes per day, which during his recovery Hal transformed into "The 5 second rule".
Hal also shared his 2nd low point in 2008 where he lost many clients as a result of the economic downturn. He lost his house, was in debt, and understandably extremely depressed. As a "success coach", he felt like he couldn't tell anyone he was a failure in his own life, however, he was encouraged by his wife to contact a good friend who was a successful entrepreneur for advice. Hal described in vivid detail how he sat at his computer with his hands on the keyboard ready to record his friend's wisdom that would return him to economic success, and instead was extremely disappointed when the only words he heard were "Do you run?"
"No- I don't run- didn't you hear what I said- I need money not exercise and you need to tell me how to fix the situation I am in - plus I hate running", he responded. His friend said what do you hate more having no money or running! His friend told Hal that he needed to get out of bed early, go running, listen to a motivational speaker while he ran, and eventually he would figure out how to improve his situation. Hal followed his friend's advice - he woke up early and in addition to running, he meditated, said affirmations, and wrote in a journal. His early morning routines helped improve his emotional and physical state and inspired him to think of new ways to improve his business and retain more clients.
Every night when Hal goes to sleep, he is so excited to wake up at 4 am and have his "personal time". He encourages everyone to try "The Miracle Morning" for 30 days and guarantees it will be life changing. FurtherEd CEO David Schnurman who completed a 30 day "Miracle Morning" period attests to how it transformed him personally into a morning person, and that he now regularly gets up early to exercise or journal which is especially sacred for a father of 3 who runs his own business. Today, I woke up at 5:30 am, went running in the rain, and had lots of energy and good spirits by the time the first kid asked me "What are you making me for breakfast?"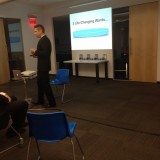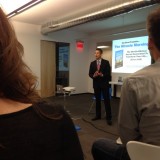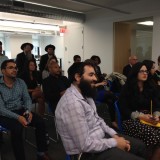 Share this!