Lawline's Scavenger Hunt: Team Building with a side of Greenwich Village History
Michele Richman
| August 22, 2017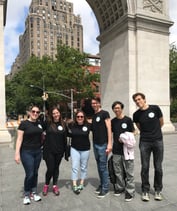 Every quarter, Lawliners take some time away from our day-to-day tasks and meetings to get to know each other better on a personal level, challenge ourselves, and have some fun. All of this was accomplished at our July 7th Scavenger Hunt, but an unexpected bonus was also learning a tremendous amount about the history of Greenwich Village.
The 4 teams were announced the day before the hunt, so the friendly trash talking and strategy building began early, at our weekly Thursday lunch. The drama continued into the morning of the event when it was raining and the skies miraculously cleared up before we left the office.

Again, the competition began early when teams took different subway lines to see who could get to Washington Square Park first. Once all Lawliners arrived, the four teams logged into the website strayboots.com, and used their unique activation codes to simultaneously start separate hunts.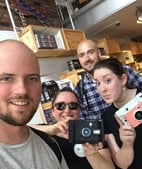 We all raced through the village despite the high temperatures, often running while reading the clues. In my group, Team 1, James Terrono and I were fortunate enough to be led by Captain Mike Shafland, who grew up in Greenwich Village, and our fourth team member Beth Bersson, who attended NYU. My main contribution to the team was making sure no one was hit by a car as we never wanted to waste a moment, including waiting for the traffic lights to change.
One of the historical sites that was on our route was the Stonewall National Monument, also known as Christopher Park, which on June 24, 2016, President Barack Obama officially designated the Stonewall National Monument, making it the United States' first National Monument designated for an LGBT historic site. We also visited 29 Washington Square West where Eleanor Roosevelt lived after FDR's death as well Father Demo Square which has the statue of Peter Cooper and the Village Voice office. The only time we stopped was due to the fact that we couldn't move because we were laughing so hard on the historic street, the Washington Mews, after I saw a group of 4 people hovering around a phone looking confused. I thought they too were participating in the scavenger hunt, and when I asked if they were also looking for the yellow crouching figures (as per the clue), they looked freaked out. We then realized that they were likely visiting NYU students here for orientation, and already wary of strangers; especially those asking about strange sitings.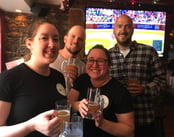 W
hen we completed our final clue at the NYU library, Team 1 was sweaty and exhausted, but exhilarated knowing that we finished the hunt faster than any other team. We also were rewarded when we went to the bar, Down the Hatch, where each team was meant to meet up after the hunt, which had air conditioning, lots of water, and cold beer. This event truly embodied Lawline's core values of Act and Play, and was especially nice because it gave us a chance to really get to know our newest team members who were hired that quarter: Dan O'Rourke, John Tan, Steven Berberabe, Beth Bersson, and Victoria Karatza.
Share this!
Related Posts