Stephanie Freedman
| November 16, 2015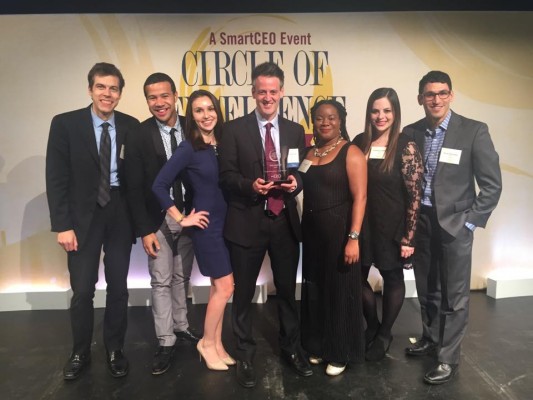 We were all anxiously waiting for the work day to come to an end so that we could attend the Smart CEO event later that evening. Our CEO, David, was nominated for CEO of the year in the Professional Development-Small category and we were all excited to support him. We all dressed in our nicest dresses and best suits to attend the business cocktail event.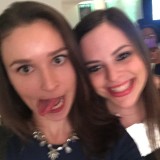 Once we arrived at the Hudson Mercantile, we were greeted with name tags and smiles. We took the elevator upstairs and entered a beautiful warehouse style room decorated beautifully and filled with successful individuals. After visiting the bar for some drinks, the group went directly to the backdrop to take some photos. Devin and I started the photo shoot, having to test the lighting at different spots of the room. The ladies then took some photos together and the men followed. While Ann, Devin, and I smiled and were professional, the men decided to make some serious faces as well as some funny ones. There also may have been some selfies involved...
We then grabbed some dinner and went to sit at our table to wait for the ceremony. We discussed many interesting topics that ranged from which superpowers we would want to what we should be calling pork. The table was full of laughter at all times.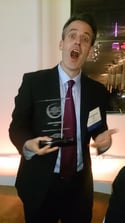 The ceremony then began with the presentation for CEO of the year. The award was presented to Kevin Ryan, founder and chairman of DoubleClick, Gilt Groupe, MongoDB , Business Insider, startups Zola and Kontor, and a few new companies still in early phases of development. He discussed the hurdles he had to overcome to achieve success and the impact that having a positive outlook had on his career. We continued to hear from many successful CEOS of companies large and small, and their input on how to succeed.
Everyone who went on stage discussed the amount of times they had to fail before they triumphed, and it was great input to hear from people who are thriving in today's corporate world.
It was truly an honor to be in the presence of such accomplished individuals. I walked away feeling empowered and motivated to do more. Although David didn't win per se, he's a winner in our eyes!
Share this!
Related Posts