Lawline Named #16 Best Place to Work for Small Companies
Michele Richman
| October 8, 2021
Lawline has been named to Crain's New York's 2021 Best Places to Work (https://www.crainsnewyork.com/awards/new-yorks-best-places-work-2021). We are honored by this recognition and we are thrilled to have climbed the list from #21 in previous years to #16 in the Best Small Company category. This rise underscores how, during the COVID pandemic, we have doubled down on our commitment to a strong and positive company culture as well as to support employee growth and well-being.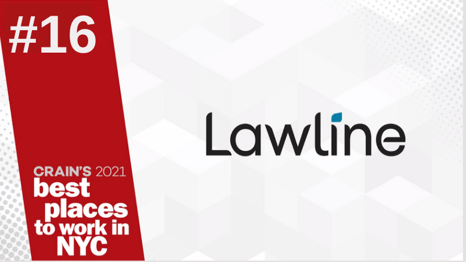 Lawline is one of 100 companies on the list, which recognizes organizations that have built and maintained a positive corporate culture and workplace experience. In our 14th year since we started providing high-quality online continuing legal education (CLE) to attorneys, our team has seen tremendous growth. Specifically, this year we have added approximately ten new roles.
During the past 18 months of the COVID health crisis, our employees' health, wellness, and safety have been our number one priority. In the beginning of March 2020, we immediately moved our entire team remote, even though all of our programs had previously been filmed in our in-person studio. After one month, we created a new way to webcast programs live from remote locations. During the first two months of the pandemic, we allowed our employees to take whatever paid time off they needed to support their mental health and their families, which was completely separate from their PTO. This allowed employees the time they needed to help themselves and their loved ones in any way necessary. We also hosted weekly support sessions to provide employees with an outlet to support one another who were going through difficult times. Finally, we provided up to $500 in health and wellness reimbursements from our COVID-19 wellness program, including for online therapy, yoga, and meditation.
In 2021, we supported our employees' well-being by adding three permanent mental health days in addition to our robust PTO policy. We have also implemented flexible hours, "no meetings Wednesdays", and we gave all team members paid leave for the entire week of the July 4th holiday. Moreover, we have provided our employees with memberships to Talkspace online therapy. Finally, even though we are under 50 employees and do not need to follow the FMLA, we expanded our paid parental leave from 6 weeks to 12 weeks.
Our company culture has blossomed through virtual happy hours, coffee chats, breakfast clubs, yoga sessions, quarterly book clubs, paint parties, virtual Olympics, Halloween costume contests, family gingerbread decorating parties, and in-person rooftop gatherings after vaccines.
We also committed this year to Diversity, Equity and Inclusion (DEI) initiatives, including partnering with Jopwell to recruit more candidates from underrepresented groups, providing unconscious bias training to all employees, revamping our hiring process to be more inclusive and creating an Anti-racism task force to keep the leadership team accountable to its DEI commitments. Further, we provide our employees with 4 paid "Give Back" days per year to volunteer in their communities or organizations dedicated to justice. We also became a sponsor of the Appellate Project, an organization committed to help bring racial equity to federal and state appellate work by providing appellate exposure and opportunities to law students of color.
We are so grateful to be recognized by Crain's New York for all of the hard work we devoted to creating a supportive culture where we value our employees professional and personal growth and well-being, and look forward to continuing to do so in the future.
Share this!
Related Posts