Spooky, Scary, or... Mesozoic?
Kathleen Boyle
| November 13, 2017
Halloween at Lawline is full of surprises. While there are a few elements of the holiday that don't hold much shock factor, like the willingness of Lawliners to demonstrate spirit, honor their favorite TV and movie characters, or express incredible amounts of creativity in baked goods and costuming, there are also times when our coworkers throw us for a serious loop.
Each Halloween, we have a contest to determine which three costumes were particularly outstanding. I stress particularly because the bar is already set extremely high by everyone who participates. Just to name a few, this year, Shaun and Meredith went in on a group costume and transformed into Gandalf the Grey and the Eye of Sauron from the Lord of the Rings, a classic series that I personally believe will never fade from the eye of pop culture. Victoria went as a character from a video game that only one of us knew (so much nuance), but luckily the costume could have passed for an angry bird, which is a game that all of us knew. Beth went as a Star Trek crew member with an impressive Vulcan salute, and I went for a costume with layers; I went as Andy Dwyer from Parks & Recreation in disguise as his crime fighting alter-ego, Burt Macklin, FBI.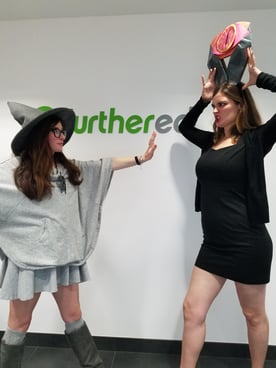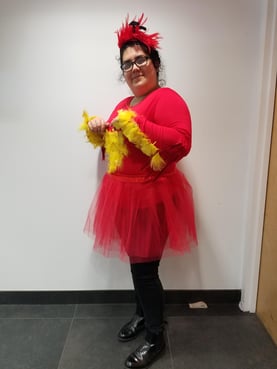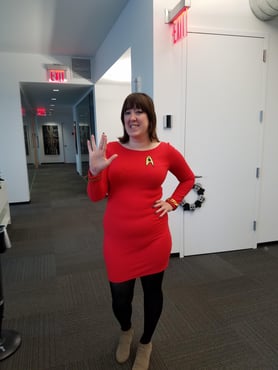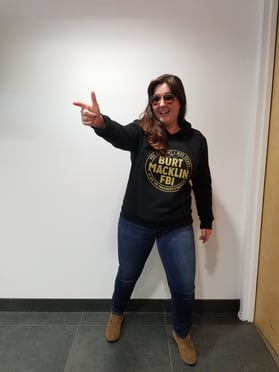 Although these costumes were wonderfully thought out and executed, when it came to winners, there could only be three. The third place costume went to Rich, for his realistic portrayal of Bob from the TV show Bob's Burgers. The man brought his own spatula to work. If that doesn't deserve the recognition of an award, I don't know what does. The second place award went to Mike, for his living portrayal of a NYC Bodega. He performed extensive research in his local bodega, and then built the costume with his bare hands optimizing the use of velcro, glow sticks, and entrepreneurship. His efforts brought him great admiration from his peers, as well as public notoriety in the form of instagram fame.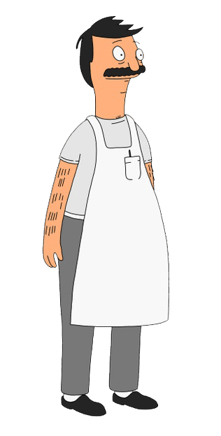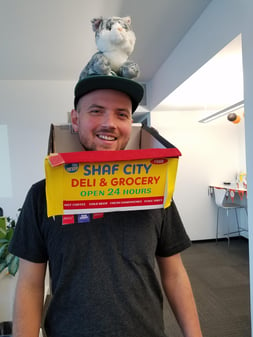 These second and third winners may have been close to each other in votes, but there was one costume that won by a land (before time) slide. This costume was a roaring hit, an old one but a good one, one to go down in the (pre)history books. I apologize for these pteroble puns. Our 2017 Halloween Costume Contest Winner was John, for his T-Rex costume that made us laugh so hard, some of us actually cried.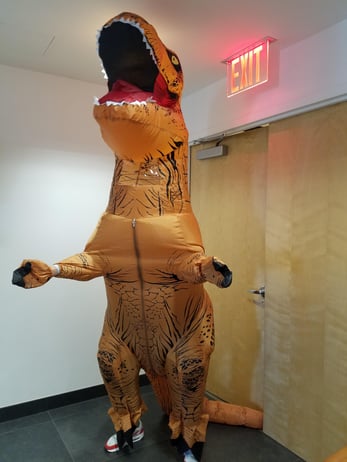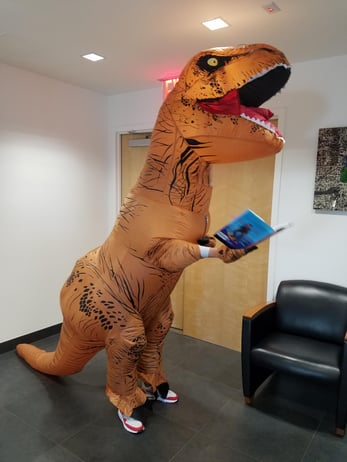 Share this!
Related Posts