#12 Ranking on the 2018 Best Companies List
Kathleen Boyle
| May 17, 2018
Lawline has been selected as the 12th Best Small Company to work for in New York State (its third year in a row of being selected as one of the winners by the Best Companies to Work for in New York group!)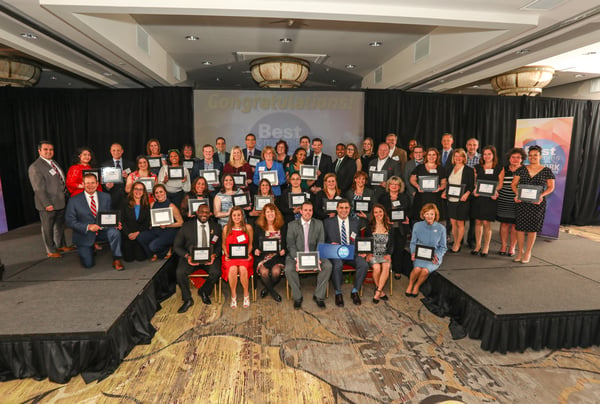 The criteria for winning is based on a two-part survey: an employer benefits and policies questionnaire, filled out by the employer and counting for 25% of the overall ranking, and an employee engagement and satisfaction survey, filled out by the employees and counting for the remaining 75%. In 2017, Lawline was ranked #27, so moving 15 spots closer to our goal of #1 means a great deal to us. We're so proud of the culture that our employees have built with each other, and we're honored to be publicly acknowledged for the efforts that we take on the employer side. We've included a few insights into what helped us climb up in the rankings:

We're Playful: We never take ourselves too seriously. Whether that means being playful when approaching our holiday lip-sync video, taking an improv class together, or having conversations at our weekly Thursday lunches addressing the age-old question of what makes a sandwich a sandwich. Laughter in the office is as much a part of our daily routine as turning on our computers.

We're Growing: Everyday, our employees grow professionally as they perfect new skills in their departments. Lawline continues a tradition of hosting a quarterly business book club, in which employees read books centered around different principles of business, submit book reports, and then have a fun book club lunch to discuss what they've learned, and how it applies to their specific roles and the company overall. Additionally, the leadership team works with a business coach in order to grow as leaders, bring growth to team members, and in turn bring financial growth to the business.

We're Caring: Every morning, Lawline has a daily huddle in which core value nominations are given from one employee to another, and by far the most commonly nominated core value is the value of care. Examples of the actions behind those nominations include caring by making tea for a coworker who started feeling under the weather, caring by recognizing and acknowledging the hard work that went into filming a difficult program, caring by texting a co-worker the night before a marathon to wish him good luck, and caring by typing notes for a coworker when she tore a ligament in her wrist. Another example of care would be Lawline's personalized anniversary gifts for our employees, which have included white water rafting on the Hudson river, a Kindle e-reader, a subscription to a hot-sauce-of-the-month club, tickets to see the Lion King on Broadway, a virtual reality game in Times Square, and even a kit for a craft beer enthusiast to brew her own beer at home.
Lawline is honored to have been awarded the #12 ranking for 2018 and looks forward to continuing to improve the experiences for all of its employees year after year.
Share this!
Related Posts