Ambassador Ann
| May 9, 2014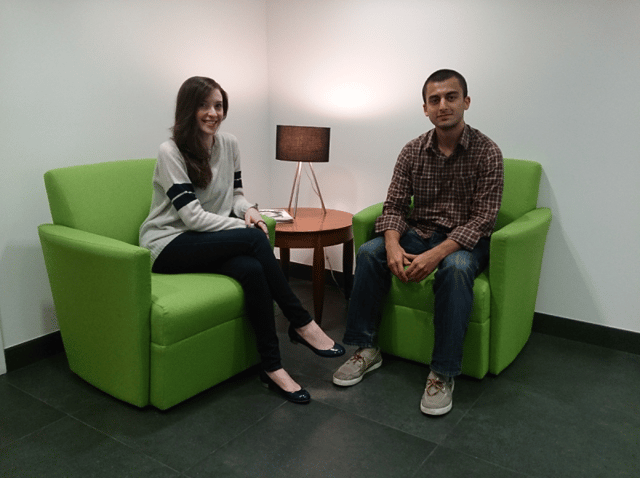 It has been an exciting week here at FurtherEd! We had Afaq & Shaun joined our team Monday and by Tuesday we were glad they did. Afaq is our new web developer and Shaun is our newest Program Attorney. Now that it is the end of the week, I decided to ask them about their experiences thus far...
1) How was the interview process for you?
AFAQ: It was unorthodox in one particular way. Usually the process tends to be a series of technical-test-interviews followed by a management (or culture) interview. However, with FurtherEd, the focus was on a cultural and personal fit from the very first interview. Most of the "interviews" felt very much like open and candid conversations. Overall, it was an enjoyable experience, as weird as that sounds.
SHAUN: Definitely the most intense interview process I've been through to date, but it also helped me get a feel for the company culture and for what type of course development I would be doing.
2) When did you realize you were pretty sure you got the job? Did you have any doubts?
AFAQ: I definitely had doubts about getting the job until the moment I was presented with an offer. I was very impressed by the calibre of the development team and wondered if I would make the cut.
SHAUN: When I got the offer; yes, I definitely had doubts because I knew that there were people older and more experienced as attorneys who had also interviewed for the position
3) OK you're hired! What were your expectations for the first week? Did anything surprise you?
AFAQ: How consistently approachable everyone has been from my first day. I have typically worked in environments that are very fast paced and that always went hand-in-hand with the notion of "heads-down" work. In my first week, I have met with many people, gone to lunch with them, and already started forming personal relationships. It makes for a very stress-free faced-paced environment.
SHAUN: Training was scary, because it was a lot of information very, very quickly. I want to make sure I can keep up! I expected training to be for a longer period of time and not as inundating, but other than that I think the office and culture was as expected. I was surprised at how much of a team environment there is here, particularly between the different departments (and I love it!).
4) Anything you like to share about your first week?
AFAQ: I just want to thank everyone who helped make my first week very comfortable and fun. It is always a bit uncomfortable being the "new person" but you certainly don't feel it at FurtherEd. Thanks, guys!
SHAUN: I'm really excited to work with everyone!
Share this!
Related Posts