2017 Best Companies to work for in New York Awards
Lawline Staff
| May 19, 2017
According to a recent poll, only 41% of Americans look forward to going to work on a daily basis. However, for any one of the seventy companies nominated for Best Company to Work for in New York in 2017, the figure is just a wee bit higher - 91%, a whopping 50% above the national percentile.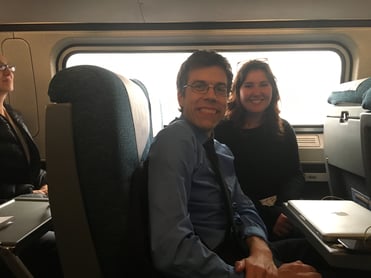 Such numbers lend greater weight to the claim that merely being nominated for the award - regardless of one's ranking - is an immense honor, an honor bestowed for the fourth time on Lawline, the company where I'm privileged to work. My colleague Kathleen and I traveled to Albany to attend the ceremony, not merely to represent the team, but also with the knowledge that sharing the stage with other movers and shakers would inevitably provide fertile ground for ideas on how to make our company culture even stronger.
A little background: Best Companies to Work for in New York, launched in 2007, as an initiative "dedicated to finding and recognizing New York's best employers". Their process of ranking companies is highly unique. There's no panel of judges, no committee, no Academy Awards-style vote. Instead, their methodology relies solely on the results of a two-part survey: an employer benefits and policies questionnaire, filled out by the employer and counting for 25% of the ranking, and an employee engagement and satisfaction survey, filled out by the employees and counting for 75%. In this way, only those individuals most qualified to assess the strengths of a company - who interact with it on a daily basis and are most invested in its success - can contribute to that company's placement on award night.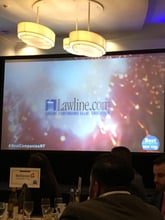 As the award ceremony kicked off, it was immediately apparent that the philosophy of positioning the employee experience front and center didn't stop with the surveys. In the course of the evening, as the rankings of the companies were momentously announced from bottom to top, a twin pair of screens on either side of the the stage spotlighted the various strengths of the companies and organizations honored. Seated at a table near the front of the banquet hall, Kathleen and I kept our eyes on the screens, on the lookout for trends.
Three were quick to emerge: flexible hours and schedules encouraged through such perks as travel stipends, sabbaticals, paternity leave, and work-from home days; structured team-building through catered lunches, in-office happy hours every Friday, and in-office gym or workout facilities; and a community-service mindset inspired by paid time off for volunteer work, among many other examples.
Lawline, I'm proud to note, is solidly part of the trend. A weekly work-from-home Wednesday allows our employees to engage in deep work on a regular basis free from distraction; our summer schedule is already replete with a picnic, a scavenger hunt, and a race in Central Park; and our investment in the good of society is on display in an upcoming event providing meals to the homeless and poor, along with a series of fundraisers for Big Brothers Big Sisters of New York and our 10K for 10 years initiative. The predominance of such trends within successful work environments make plain the influence that a sense of empowerment, purpose, and impact can have on employee happiness and engagement. It is, after all, rather easy to look forward to going to work when your work has purpose, and when you're surrounded with great people and endowed with the personal freedom necessary to see that purpose realized.
Lawline ultimately came in at 27th best company to work for in New York - major cause for celebration, but celebration was only one part of the equation. When we'd grabbed our photo-ops and we'd said our goodnights to our fellow honorees, Kathleen and I headed up to our floor of the hotel, initially with the objective of catching rest. As it turned out, though, it took us a full forty-five minutes to make it more than ten feet from the elevator bank. We were on fire with ideas for how to take Lawline's culture to the next level, electrified by the inspiring presence of the companies with whom we'd shared our evening. When we finally called it a night and retired to our respective rooms, it was with the grudging acquiescence of children who had to put down their toys for the night. We were back at it again the next day, feverishly typing up our thoughts as our train headed south again to Manhattan.
Our only real distraction came in the form of a bald eagle, spotted some fifteen minutes south of Albany, as our train wound through the marshlands of the Hudson River. As recently as the early 1990s, the bald eagle was categorized as an endangered species, but thanks to the tireless efforts of activists who - like the employees and employers honored the night before - operated with a clear sense of purpose and impact, the population has rebounded to the status of "least concern", a truly miraculous recovery.
"Next year, Number One," I said, watching the magnificent bird careen away into the distance.
"Next year?" said Kathleen. "We're Number One already!" and, of course, she's right.
Share this!
Related Posts