Kathleen Boyle
| March 8, 2017
I think we can all universally agree that knowledge is one of the most valuable resources available to us in life. There would be no growth without the acquisition of knowledge, and this applies to the personal sphere, as well as the professional one. Here at Lawline, one of our five core values is Grow, and it isn't something we keep in the back of our minds and force ourselves to practice periodically; it's something we noticed our employees doing every day, and knew was one of our inherent values as a company.
Growth takes many forms at Lawline. Externally, our courses give our customers tools for growth in their industries. Internally, our leaders encourage employees to engage in developing their careers and cultivating opportunities. As a celebration of my favorite core value (please don't tell anyone that I'm picking favorites), I'd like to share two stories that begin differently, but end the same way.
Earlier this year, everyone at Lawline received the rare opportunity to spend a half day with our business coach, Mark Green, at which time we made emboldening discoveries about our business and ourselves. Meredith Cohen, our Director of Accreditation shared her thoughts on the event:
"On January 18, the entire Lawline team ventured out for an off-site company meeting to meet with Mark Green and learn about...well, we didn't quite know what we were going to be discussing! We knew it would have to do with 'growth,' but that's such a vague concept. What was he going to tell us that we didn't already learn from Scaling Up and our multitude of Team Huddles and meetings that discussed growth in the past? It's even one of our Core Values! We knew about growth, and this meeting wasn't going to teach us anything new—or so we thought.
Mark gave us wonderful insights about how companies grow successfully, and put particular emphasis on individual, personal growth. He said that companies cannot grow faster than their people do, and so we spent several hours learning more about our own strengths and weaknesses, how each of us is perceived by others, and ways to get valuable feedback from outside sources that can help put us on the right growth path. He even helped us reframe how we see our individual roles within the company, and come up with strategies to better assess what our priorities need to be (and what a priority truly is for that matter).
It was an afternoon full of learning, great takeaways, and personal growth!"
Meredith's observations on the event are remarkably compatible with my own, as I also found great value out of Mark's feedback on strategy, and his emphasis on taking the opportunity to grow through our business. As I mentioned before, my second story begins a little differently, but ends this same way. Last Thursday, I spent an afternoon learning about our culture. If you're under the impression that a company's culture doesn't have a measurable effect on its business, then I would highly recommend signing up the next time Ben Kirshner, the CEO of Elite SEM, holds a talk.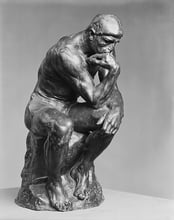 The attendees spent half an hour before the talk networking and socializing, which for me held almost as much value as the talk itself. In just half an hour, I learned the culture practices of three different businesses, meeting people willing to introduce the areas where their culture could be stronger, as well as freely share the details of tried and true practices that their employees love. You could tell that people were truly engaged listeners, because when one person shared a culture story, everyone else looked like Auguste Rodin's The Thinker.
Then the talk began, and Ben Kirshner provided us with answers to the unresolved questions from our conversations. He stressed the importance of core values, hiring employees based on culture fit versus performance, and the most interesting to me: asking what employees want, and giving it to them. The people who make up Elite SEM's culture are valued above all else at the company, and the business comes second. But the business is doing phenomenally well, so it sets a great example. My feeling after this education event was the same as Meredith's: it was an afternoon spent gathering actionable takeaways on how people can grow within, and alongside their company. Thankfully, my biggest takeaway was the realization that we're doing so many of the things that Ben mentioned, and our culture at Lawline reflects that conclusion.
It's a relief to see that we're growing in the right direction, that we're practicing great habits, and that our people are happy to grow with us!
Share this!
Related Posts