A Journey to the Marathon - Victory (Part 4)
David Schnurman
| December 8, 2011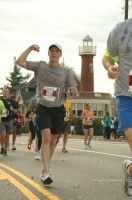 What do jumping over a homeless guy, getting cut off by a crazy dog, and running through a crime scene have in common? They were all part of our journey of training for the marathon. On November 20th was zero hour and Kyle and I started our run in almost picture picture weather in Philadelphia. The run itself was amazing the first 18 miles we talked, told stories, interacted with the crowd and focused on shaving time to finish in under 4:30 minutes. It was 3 weeks since our last long run of twenty miles, so in a way the run itself felt foreign. However, once I got past 5 miles my training kicked in and it became automatic that is until I hit mile 23.
I heard about "the wall" and I knew it was coming but that did not make it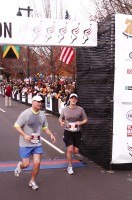 any easier when it happened. It started with the soles of my feet burning me and just extended to my legs and did not ease up until the finish line. It is amazing being in so much pain and all I needed to do to make it go away was stop running, but instead I continued for another 30 minutes. Kyle was in front of me in great shape pushing to keep me moving by saying everything and anything to make sure we kept the pace up to beat 4:30. As we hit mile 25 I expected to see the finish line one minute after I passed the marker and than a minute after that but time extended for what seem extraordinary long. When I finally crossed the finished line I had nothing left in me and felt proud that I had given my all. In fact in my daze in the last few miles I thought we fell way behind the 4:30 mark but instead finished at a respectable 4:18.
I am working on a Ted like presentation on my reflection on my 4 month journey and what it did for me both physically and mentally. I will share it as soon as it is ready.
See "A Journey to the Marathon" (Part 1)
See "A Journey to the Marathon" – A Defining Moment (Part 2)

Share this!
Related Posts