Lawline Staff
| April 27, 2016
At many offices, a baby shower is a time to get free cake and have awkward conversation with coworkers before returning to work or skipping out early unnoticed. At Lawline, it's a time to truly celebrate the coming joys for a friend.
I never thought when my temp agency sent me on a short assignment that I would be in the same place three months later and having a blast.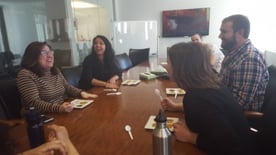 Michele trying to guess the "yellow" flavor
On Tuesday afternoon, we all gathered in the conference room to surprise Angelica and celebrate her first baby! She was shocked and so grateful for the love and cheer. This wasn't a lackluster office baby shower where we gave gifts and ate grocery store cake. This was a time for everyone to shine with knowledge of all things baby and enjoy the company of one another! Ann put together some fun games for us to play, and each group of volunteers was in for a new surprise. Do you know the terms for different "babies" in the animal kingdom from A to Z?! Neither did we. Can you determine the ingredients of baby food from a blind taste test? We had some trouble at first, but it honestly wasn't as unpleasant as we expected. If you're in a snacking mood post wisdom teeth removal, I would suggest a healthy serving of fruit medley baby food. Don't knock it 'til you try it! We know babies eat differently than we do, but they also drink differently than us. I dare you to chug half a Heineken through the tiny opening in a baby bottle. CHALLENGE ACCEPTED! I promise that laughter will be guaranteed for all. We found persistence to be key in this particular game, and it's clear in the faces of our spectators that the glory was worth the wait!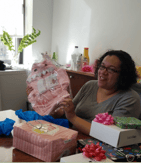 In the end, the fun we had was an excellent celebration for our friend's next great adventure (not a dull office gathering)! And really, what baby doesn't look adorable in a giant towel that presents the world with a mini James P. "Sully" Sullivan?!
P.S. The cake was AMAZING, and I won the beer chug! Temp jobs like this don't appear every day.
Written by the awesome Laurel H.
Share this!
Related Posts