Ambassador Ann
| September 7, 2016
First day of school always feels like it signals the end of summer for kids (and adults too). Mainly because it means playtime is over and work takes precedence again. Looking back on this summer at Lawline, we were privileged to have three very diligent interns who chose to continue learning with their free time. We, respecting their time, didn't want to utilize our interns to fetch coffee and make copies. Instead, under the guidance of Lead Program Attorney Shaun, our interns were trained under the Programs Department and video producers, Micah & Michael, to understand the world of Continuing Legal Education. Read below the summer experiences of Jack, Nana, and Dana here at Lawline.
Jack L. (Video Production)
"My first hour was scary because I did not know how it was going to turn out, but I did my best to channel it into confidence.The first week was one of the most informational weeks at Lawline. There was a lot of gathering, analyzing and developing during the meetings. I learned a lot about what each department handles and how to apply some of the things I learned to my personal hobby. The video production department was the most informational because that is what my internship was mainly about.

My first time working in the video production studio was great because I had the chance to learn about a budget friendly system. Micah and Michael were very friendly and helped me understand the studio as much as I could. I am really glad to have had that opportunity. I really like the organization of the post production process, it helps me modify my system.

I really recommend this internship opportunity to other students interested in video production. It is an eye opening experience - to understand the different working environments and how different companies utilize their resources."
"This summer I had the great opportunity to intern at The Lawline. I worked directly with Shaun Salmon of the Programs Department. However, I also interacted with all Lawline employees during company meetings and company lunches, but also outside of the office including a company Mets Game trip. I can truly say that my experience was well spent and I appreciated the substantial work I completed.

I went from not really understanding what CLE-continuing legal education was at the beginning of the six weeks, to knowing how to generate state-specific and U.S. Supreme Court CLE course curriculums for different fields of law for both ethics and general credit. I was then able to apply the knowledge I gained to create and co-present a ½ hour CLE course on Fashion Law, specifically whether designers should be guaranteed legal protection. I was also exposed to the company's marketing methods and shared a campaign idea for an unlimited CLE subscription discount.

The Lawline embodies what a company team should be. Everyone is kind spirited and always willing to lend a hand. The company core values are a unique aspect of The Lawline and time is dedicated to highlight members of the company for their caring, creative, active, playful and growing natures. Working with the Lawline has solidified my interest in pursuing law and I hope my future involves working with a close-knit team such as the Lawline's."
"Interning at Lawline this summer was an amazing learning experience. From the first day to the last, I was made to feel like I was a part of the Lawline team through the daily huddles, company meetings, weekly group lunches, and constant embodiment of core values. As a programs intern, I had the opportunity to hone my research and writing skills by creating course curricula on a variety of legal topics. In addition, I was able to participate in the Programs Department's weekly meetings, which gave me valuable insight into the inner workings of CLE and content creation.

The internship culminated in a presentation with my fellow intern, Nana. We spent the last week working to craft a presentation on fashion trademark and patent law, which we presented in together in the studio. Overall, my experience at Lawline was wholeheartedly positive and has furthered my interest in law!"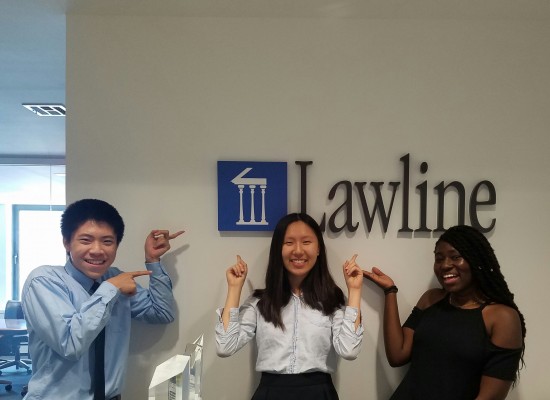 Share this!
Related Posts