Discovering Jewish History
Ambassador Ann
| October 4, 2012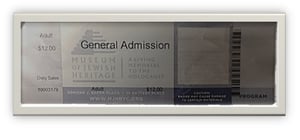 Yesterday, a group of Lawliners signed up for one of our fun activities here: trip to the Museum of Jewish Heritage. Skip Yelp and read their personal reviews of the museum.
Alex: Continuing the tradition of always learning, Wednesday's trip to the Museum of Jewish Heritage was the perfect way to spend a muggy afternoon. We learned a lot about the history of the American Jewry and greatly enjoyed the trip
Blair: There was a Holocaust portion and that was very intense with videos, pictures, and artifacts of survivors and the murdered. Overall [it was] very informative, interesting and I'm glad I went!
Jeff F: The museum was amazing. Other people visiting were very engaging and willing to volunteer facts about old artifacts, rituals and people. There were some powerful and somber moments but overall it was a fulfilling learning experience.
Melissa: It was both sobering and uplifting. The Holocaust exhibit was very sorrowful, and I don't think any of us walked through it without having an intense emotional reaction. But the vast majority of other exhibits were beautiful. They really showed how rich in culture Judaism really is because its practitioners come from all around the world.
Meredith: It was great to learn more about Jewish heritage than just what happened during WWII. The museum looked at what Jewish culture is all about, how the Jewish people have come back since the war, and how aspects of Jewish history and culture have permeated throughout American pop culture. It seemed like the focus was going to be all on the Holocaust, but there was actually quite a lot of optimism throughout the exhibits, which was refreshing!
Ryan: The museum provided an in-depth look into the history of the Jewish people that was one you may not find with a cursory glance through history. It was more than just the Holocaust, but an exploration of the past, present, and future of the Jewish culture. I enjoyed the heck out of it. Plus it had a sweet rotunda dedicated solely to the song "Hava Nagila".
Share this!
Related Posts