Lawline and Above the Law: Partners in Time! Celebrating 10 years of Success
Lawline Staff
| October 14, 2016
Here at Lawline, we are driven by achievements and success, and this event was no exception. A couple of weeks ago we sponsored the 10th Birthday Celebration of our most recent partner, Above the Law, a recognized site that takes a behind-the-scenes look at the world of law.
After a warm welcome from ATL's CEO, John Lerner, the evening proceeded to hold valuable and interesting conversations with recognized players of the legal industry. The topics ranged from the importance of a stress-free continuing legal education, to the industry's implementation of high tech solutions, to its most common problems.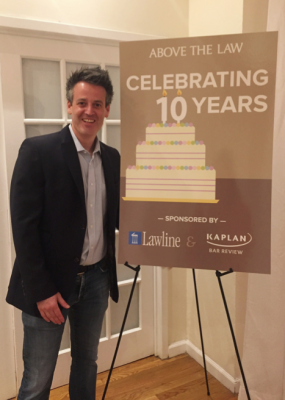 Our CEO, David Schnurman, and the Lawline team had the opportunity to speak with attorneys and professionals from very different backgrounds, sharing their knowledge and opinions of trending topics across various industries. The minutes went by so quickly, we didn't even notice we were almost the last ones in the room, proving that when you are exchanging ideas with so many smart minded personalities, time does fly!
They say that it's best to collaborate with people you can learn from, and here at Lawline we take growth opportunities very seriously. So as we join the celebration with our upcoming 10th anniversary, I would invite you to check out our partnership with Above the Law. On this page of their website, you can find curated articles from our team, as well as the coolest and most interesting courses to fulfill your CLE requirements. So don't wait any longer and visit our page!
Share this!
Related Posts