Lawline at the Women's March
Kathleen Boyle
| January 30, 2017
January 21st was quite a day for our nation, and for several members of our Lawline team who participated in the Women's March. Just to throw out some numbers (who doesn't love numbers, right?), 30% of our employees attended the march: 25% of us carpooled in buses and cars to be present at the main event in Washington D.C., slept on floors and under the roofs of friends and family members, and the other 5% stayed local and represented us right here in New York. There were also several Lawliners who couldn't attend because of prior engagements with family and friends, but sent their love to those of us who were able to march. I asked fellow representatives from Lawline for some of their thoughts and observations from the weekend, and the following are a few of their responses: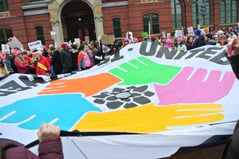 Alejandra, our Programs Assistant who attended the Inauguration as well as the march the following day said, "For me, the Women's March on Washington was more than a march. It was an opportunity to see the impact a group of people can make when they work peacefully and collectively to achieve a common goal. It wasn't about division, but bringing every single person from the spectrum together. It wasn't about criticizing or emphasizing on the negative, but a chance to put positivism in the spotlight, respecting, and tolerating others' opinions - simple values the world needs so much right now. It was about setting an example for our future generations to stand up for what they believe in. It was about giving voice to the voiceless, and hope that when we are united and look for common ground, we can achieve extraordinary things".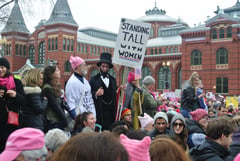 Our Video Producer, Micah, who also attended the march in D.C., remarked, "It was my experience that marchers were markedly good-natured to each other. I didn't see one single squabble or overhear any heated exchanges, even though the immense amount of crowding all but guaranteed that at least a few people were getting their feet stepped on".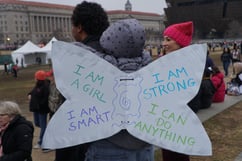 Meredith, another member of the Programs team shared, "In addition to the sheer magnitude of the turnout, I was also really taken aback by the range of ages represented at the New York City march. There were babies sleeping in strollers, children with signs they had made themselves, and senior citizens with canes all marching together. It was touching to see families joining together with the larger community for a cause they believed in".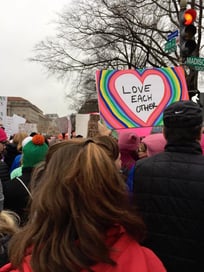 My personal favorite speaker on Saturday was actually a young girl spreading words of love, and intention to protect her fellow child, delivered both in English and in Spanish. As it did for Meredith, the diversity in age of the day spoke to me, and it was an extremely unifying presence revealing that women, as well as men, of our past, present, and futures are impassioned enough to take action and ensure bright futures for themselves, and those around them.
In regards to those who attended, and those who wanted to attend and couldn't, the most common emotion felt by our team that Saturday was love. Love for family, love for friends, and love for our fellow (wo)man.
Share this!
Related Posts