Lawline Goes Juice Cleanse Crazy
Lawline Staff
| July 30, 2012
Just 2 weeks and 5 pounds ago, a group of Lawline employees made the commitment. The commitment to cleanse! In an effort to jump start a healthier lifestyle, 8 Lawliners embarked on a 3 day juice cleanse, the Blue Print Cleanse.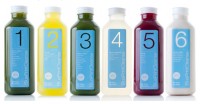 The Blue Print Cleanse, consists of 6 difference juices which are drank periodically throughout the day. The juices range from a green mixture with kale, spinach and apple to a spicy lemonade with lemon and cayenne pepper.
But why torture yourself with a liquid diet? Great question.
"I thought it would be a great mental challenge ... I thought it may also help to give me perspective as to how much your body actually needs in order to survive," said Frank Furbacher, Vice President of Operations.
For many "juicers" this cleanse was a jump start to a healthier lifestyle. Whether it be cutting our carbohydrates, soda or sugars in general, the juice cleanse helped many of us realize what we do and don't need in our daily eating regiment.
The second and third day were definitely the hardest, but going through this experience as a Lawline team not only helped us complete the cleanse but demonstrated how supportive and helpful Lawline team members really are.
Everyone made it through with no mishaps! Our mental strength and health reached a new level, thanks to everyone's support.
Share this!
Related Posts