Ambassador Ann
| March 16, 2012
Last week, we had the honor of Sigalle joining the Lawline.com team! Yesterday, for her 1st morning meeting, she asked that everyone share their first memorable experiences from their early days at Lawline.com.
Sigalle
Starting a new job always comes with a sense of excitement, opportunity and, of course, apprehensions. Thus, as I approached my first day at Lawline, I was very concerned with making a good impression, efficiently learning my responsibilities, and becoming an asset to a Company I felt so honored to be a part of. Before delving into my responsibilities as a program attorney, I was assigned to the Customer Service department in order to better understand what the company was about, the services we offer, the various systems we use and the accreditation requirements for each state.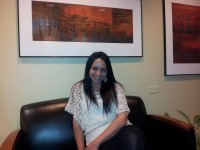 After only a few moments of being in a room with Tricia, Chris, and Andrew, my worries vanished almost immediately. This is why: They encompassed every core value in everything they did – and in doing so – they not only made me feel welcome, but they provided me with the confidence and tools needed to succeed almost immediately.
For example, each and every one of them exuded an optimism that I would quickly pick up all that I needed to know to excel. In addition, they took the time to help me and answered every question I had with patience and with a smile. Further, they were always seeking creative solutions to my need for access to documents and sites as I was not officially set up in customer service. Lastly, I was inspired by how the three of them actively learned from each other and were always striving to find a better way.
These are what others shared of their beginnings here:
Micah

-

During my first week, Dave and I were struggling with our first project. At one point, I started engaging in quitter talk, at which point Dave said, "So you're saying we should we just give up? What if this were your company?" That was the moment my perspective shifted - when I first realized the degree to which I was invested in the company, when Lawline's goals were my goals, and when I had to take responsibility for everything I was part of.

Casey

-

During my first week, I closed five sales. I remember thinking "yeah, I can definitely do this."

Chris

-

I remember getting donuts with Frank (VP) and meeting Dave (CEO) for the first time.

Mike B

-

Co-workers barged into my call to help guide me through closing a deal.

Alex

-

Frank having lunch with me.

Discovering that Ken & Joe both were involved in theater.

Rob

-

I was making CPE questions my first couple of days. Jeff R kept saying that CPE was going to be huge.
It was such a delight sharing these moments with each other.
Welcome Sigalle and we all here look forward to many great memories!

FYI- Sigalle and I were singing NKOTB so enjoy this throwback video:
The Right Stuff
Share this!
Related Posts