November Spotlight: Micah - OPTIMISM
Ambassador Ann
| November 30, 2011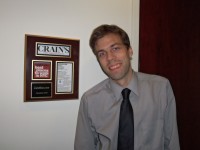 This one is easy. The faculty event 2012 was also a day with the opportunity of going into the history books as a result of the Occupy Wall Street movement. The night before, Mayor Bloomberg called for the removal of all protestors from Zucatti Park. The result? The leaders of the movement decided to take the protest to Union Square at 3PM.
The problem? Lawline.com's faculty event was scheduled at the Union Square Ballroom, and the production team was scheduled to arrive at 3PM. Potentially, this was would be disastrous.
However, the event turned out to be the largest success in the three years of the Lawline.com Faculty Awards. Guests arrived safely, there was tons of energy, Awards were handed out, speeches given, and everything went to plan... better actually!
This will be a great story: even with the city falling apart around us, the event STILL got off without a hitch . . . attendance was high, and everyone loved it!
While Micah Bochart spoke, sirens blared outside, protestors were arrested, and it felt as if the city was falling apart. That didn't stop Micah from realizing the work, hours, and fun of the event. It went off without a hitch... and some would say this optimism was the glue that kept the city together that day.
Share this!
Related Posts