September Spotlight: Chris - SEEKING CREATIVE SOLUTIONS
Lawline Staff
| September 14, 2011
"Customer Service Guru"
When Christopher had to have business cards ordered, that is exactly the title he got and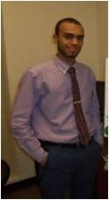 with good reason. Christopher gives 200% to help the customers of Lawline every day. He does not just solve the immediate problem but makes sure to follow-up with the customer to see if things are running smoothly and if they need anything else. That is dedication.
There was a customer who called that Ann responded to. The customer promptly said "My name is Mr. X. Chris knows. Have him email me". As Ann called Chris and only said Mr. X's name, Chris already knew what he had to do and in fact already had taken care of it. Only gurus can achieve that level of relationship with customers.
With help from Trisha, Chris implemented a new chat feature on Lawline's website. After research, the new chat system works much better than the previous one and was more cost efficient. Chris also started taking the reins for a bug tracking system. He wants to help the Development department since he knows it will help save time and ultimately provide a better customer experience. No one asked him to do so; he took it upon himself. With his new systems and weekly meetings, those pesky bugs will surely have no hiding space left!
It is great to know we have a guru to help the wonderful customers of Lawline.
Share this!
Related Posts