Taking Time to Help Others: Micah the "No Problem" Employee
Michele Richman
| June 3, 2015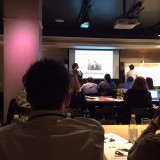 One of Lawline's most important Core Values is "Taking Time to Help Others", the "T" in "AS TED". Lawline's Chief Video Producer Micah Bochart is the embodiment of this core value and it shows in how he treats his fellow Lawline team members, our faculty, our customers and all of our partners. This was made clear at a May 18th Entrepreneurs' Organization ("EO") event featuring "Performance Optimizer" Dethra Giles who was asked to speak on the topic "Aligning Your Culture to Profits."
This event was attended by Lawline CEO David Schnurman, COO Kevin Kelly, and Director of HR & Legal Michele Richman and much to their surprise, Dethra opened her presentation by sharing that every employer should "try to create the Micah Bochart's of the World" in order to boost a company's revenue. Through a mutual connection, Micah was asked to assist Dethra in filming some videos of her interviewing entrepreneurs on their techniques in fostering company culture.
Even though all of this work was in addition to Micah's commitment to filming and editing Lawline's growing library of legal content, he said "No Problem." When Dethra asked him to make her edited copies of her interviews, he said "No Problem." On the day of the Presentation, Dethra called in a panic because her hard drive had crashed, and Micah said "No Problem" and proceeded to upload all of her interviews to a youtube channel that she could access from anywhere. As a result, Dethra noted when she is referring a colleague to a continuing legal education company, the first place she will send them to is the "No Problem" company.
Share this!
Related Posts