Lawline Braves the Elements
Lawline Staff
| February 16, 2017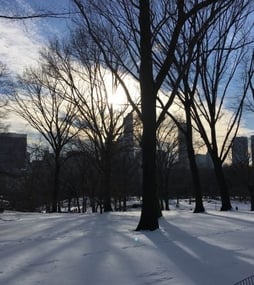 Last week's blizzard brought its share of commuter horror stories from those Lawline employees who managed the trek to the office. One thing it didn't bring, though, was any kind of dent in the productivity of our business. Marketing e-mails went out on time, developers continued to perform improvements to our website, and, with the help of a faculty member who braved the storm, a live webcast from our studio went off without a hitch.
Finely-tuned strategy and a flexible work-from-home policy played a role in our success, but more than anything else, I give perks to our company culture and the core values that give it shape. We've strongly ingrained such concepts as "Act" and "Care" in our thinking, creating not just professional but also personal investment in the well-being of our enterprise.
Having been with Lawline for over eight years, I know firsthand how many times the forces of nature have put that investment to the test. The brutal December Nor'easter of 2010 brought New York to a standstill and shut down numerous subway lines, but didn't stop a handful of Lawliners from trekking to our building through knee-deep snow. The freak earthquake of 2011 was equally fruitless in slowing us down.
Our proudest moment, though, came on October 29th, 2012, with the advent of Hurricane Sandy.
Thanks to a major CLE deadline, the final week of October has consistently been one of our busiest and most profitable months. A disruption of the kind suffered by other businesses could have proved painful both for Lawline and the attorneys who depend on us to fulfill their requirements, but as it turned out we didn't miss a beat. With wind and rain lashing the streets, with transformers exploding and half the city plunging into blackout, our team worked furiously to keep our business bounding forward and our customers front and center. Our developers worked around the clock to migrate our servers out of the path of the storm. Our customer service team took calls at home on their cellphones, tirelessly addressing the needs of our viewers even after losing power in their own apartments. A collaborative effort between our video production and programs teams ensured that all seven scheduled webcasts - each with hundreds of people watching online - were executed without hazard, not one webcast so much as starting late. All the while, and in the days that followed, our Lead Program Attorney reached out to potential faculty to develop new courses. Those outside the mid-Atlantic reacted to her calls with the same, unanimous sentiment: "Wait . . . aren't you in the middle of a hurricane?"
In reflection, it's tempting to hint at a deeper, more sophisticated formula behind our accomplishments, but as Tony Hsieh, CEO of Zappos, once remarked, "Chase the vision, not the money; the money will end up following you." At Lawline, our vision, purpose, and values are predicated on action and caring, on creativity and growth, and all of us eager to chase them. That's stronger stuff than weather.
Share this!
Related Posts