Oi Wo Mark
| September 19, 2017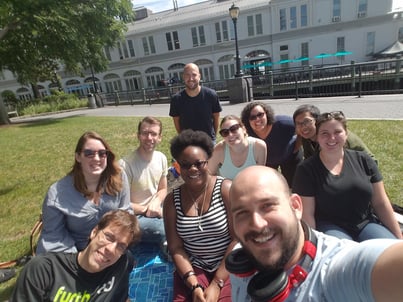 It was the last Friday before the long Labor Day weekend, and a group of Lawliners gathered for a picnic under a beautiful sunny day outside trying to make the most of the remaining summer time. This was one of the many team-building events that our one and only Ann, our Office Ambassador, had planned for us throughout the year. This is my second year getting to experience this event, and it was refreshing to be able to get away from work for a moment and have some fun.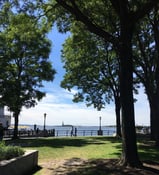 As always, Ann prepared everything we could need beforehand- food, chips, blankets, games, etc. and we were doing the easy part in carrying all of those things to our 'usual' spot inside Battery Park.

Although the weather was colder than normal, we quickly warmed under a sunny sky- perfect weather for a picnic! Once everyone was settled down, we started enjoying the sandwiches and sat down to talk.

I would say the main talking point in this year's picnic was the card game we played called 'ERS', and here is the wiki in case anyone is interested knowing more. Essentially, it's a hand-slapping game that requires good memory, quick reaction time, a deck of cards, and a hand. Kathleen, our BizOps Superstar, introduced this game and at first, no one had a clue what the game was about. After she gave us some really detailed instructions (we were all amazed how she was able to remember all those rules so clearly, I wonder what her intention was!), we all sort of realized we had played the game in one form or another. So, we started the game off at a pretty slow pace at first just to get a sense of it, but after a while everyone was getting so competitive, and tried their best to win as many cards as they could. At the end, needless to say, Kathleen, according to her 'plan', couldn't resist her competitive spirit and won the game.

Joking aside, it was just a perfect day to be outside with the team having some fun under the sun. This kind of event truly reflects one of our core values, which is PLAY!
Special mention- this was the last event we had with Danny, our Dev Team Rockstar. He decided to leave the company to go on an adventure in South America. I just want to wish him the very best, and I'm glad to have worked with him over the years!
Share this!
Related Posts