January Spotlight: Micah - ACTIVELY LEARNING
Ambassador Ann
| February 22, 2012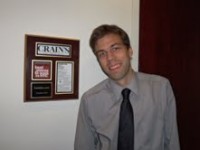 Micah has led the charge with our new PTZ camera – a camera that features remote directional and zoom control. In combination with Wirecast, the setup would allow a moderator to be located anywhere in the world while filming programs in our studio, and it would allow the moderator to have unique control over the camera's functioning through the remote.
However, along the way, a few problems came abound…
First, the company sent him the wrong camera, then the right camera they sent didn't work. Next the cable they sent with it was wrong. After this, he got the control pad and it took two hours of calls with their customer support staff to get it to work. Afterwards, the audio was not working and he needed to get a new device.
Further, the mount was not in and he had to find a new one. Once this happened, Micah needed to find a solution to get it to work remotely, and he came up with an original mix between Skype and Logmein as well as a screen capture solution to back it up…
Bottom line any mortal would have been stopped in his tracks, but each obstacle just pushed him further to make it happen. He continues to learn and this in combination with his drive leads him to consistently innovate.
Share this!
Related Posts