Lawline Team Culture Series - Post 5 of 20
Lawline Staff
| February 1, 2012
Culture of Discipline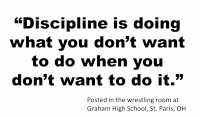 Many think a great idea can turn into millions. This is true, kind of. An idea is only a piece of a larger puzzle which can create something great.
A large part of that puzzle is the structure of an organization. Within that structure is one characteristic which creates solitude: discipline.
Imagine, as an owner, trying to start your morning off with a meeting involving the entire company, in which everyone plays an intricate part in the meeting. Now imagine if only 25% of your organization showed up on time for the meeting, with the rest coming in a few minutes apart, until finally at the conclusion of the meeting everyone has arrived. Think of the same example, except only 50% or 75% show up on time.
If only 25% of the organization is on time, those in the meeting probably feel like outcasts for being the few in the office. At 50% the company is split between those who are there and those who are not. At 75% the outcasts become those who are not on time.
Now imagine if every morning 95% of the company was on time to the morning meeting. Maybe that 95% makes up 1, 3, or 5 people not on time. Those people are going to feel mighty awkward walking into that meeting late. They will also make sure if they are late, they will make sure it will be the last time.
Having everyone buy into this type of culture of discipline is a very important part of the Lawline Team Culture. Unless you get buy-in from employees, this is not possible. Leaders in the organization are expected to lead by example, and with that, followers are necessary to enforce these examples.
No one enjoys waking up to an alarm clock (or at least not many!), but discipline is all about doing what you don't want to do, when you don't want to do it. At the very least, enjoy where you work and what you do to put yourself in a position to succeed!
Share this!
Related Posts