Matt's Three Month Review
Lawline Staff
| May 26, 2011
Matt was hired in February to work in Lawline's Sales Department and has done a great job in helping the company expand to new markets. He took the time out to reflect on his first three months on the job:
Not all sales jobs are created equal. This is something I've found out in the few months I've been here at Lawline. I used to think that telemarketing was telemarketing regardless of what you were selling and what company you worked for. At Lawline, this is definitely not the case. I have had countless jobs since I was little. Whether it was, mowing lawns, umpiring little league baseball, working as a security guard at my university's art museum, to sales for large and small companies, I feel like my work experience has been relatively balanced. One thing that sets Lawline apart from all the others, is the sense of teamwork and impact each individual employee has on the company's success and achievement.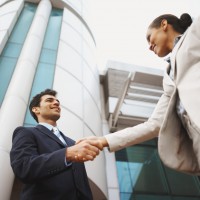 At Lawline, you are not just another number. You are an individual who plays an important role on the success and progression of the company. We work closely and directly with management, other sales reps, and all aspects and departments of Lawline to ensure that this company succeeds. Each individual has a voice and everyone here listens. Creativity is encouraged, feedback is appreciated and ideas are implemented. This is something very few companies still do today.
One thing I really like about Lawline, is that their chain of command is flat compared to all other companies I have ever worked for. I don't feel a sense of a "totem-pole hierarchy". I don't feel like just because I am a sales rep, who has only been here for a few months, that I am any less important than any others. We are a team, a group of individuals collectively working together to achieve a goal. Each individual plays an important role in achieving this goal and without each specific individual, our goals cannot be achieved.
The most important thing I have learned since being here at Lawline is that things aren't always giving to you on a golden platter. If you want something, you have to go and get it. Hard work and determination are the keys to success here and in life. Reaching a goal through effort is the most rewarding way to achieve success. You get out what you put in and hard work and determination will pay off greatly. Lawline provides you with the resources and tools to achieve greatness.
Sales is cyclical and has countless ups and downs. It is a roller-coaster, but Lawline does all that it can to keep each individual on the up. We have happy hours, have gone rock climbing and consistently have contests to add a little friendly competition. If you want to work in a work-hard play-hard environment where you can play a major impact in individual and collective success, then Lawline is for you. Here you're not just another number but a key component in the success of a fast growing company.
Share this!
Related Posts