November Spotlight: Sean Barr - ACTIVELY LEARNING
Ambassador Ann
| November 30, 2011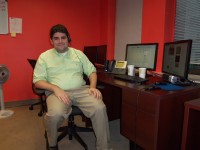 A few months back, Lawline.com subscribed to the Jack Daly unlimited webinar package (you have to love those unlimited course deals). The seminars are about becoming a better sales person: creating referrals, being genuine, leading a team, what to say, when to say it, etc. For a while, the subscription to the courses went relatively unused...
Mid-month, Sean Barr was not where he wanted to be with his sales. When this happens, it is easy to be uncertain with what is happening or why there is a decrease. With someone as successful as Sean - it would be even easier to say it is just a slow start to the month, and things will pick up.
However, Sean didn't take that attitude. When he wasn't at the benchmark he had set for himself, he reached out to Frank to learn what more he could do. He knew he had the leads and that the sales were close, but wanted to learn how to get them on the line and close the deal. Frank led him to the Jack Daly webinars, and Sean took a course on the customer cycle and creating a referral network.
The unique thing about this one action was its spread: this specific webinar led to the rest of the team watching the same course - leading to multiple team meetings overviewing the diagrams from the course, a re-thinking of the sales process in general, plans for updates to the CRM system to integrate these ideas, and, ultimately, more success.
Share this!
Related Posts