Lawline Ranked Top New York Company To Work For In 2019
Lindsey Morales
| September 25, 2019
Lawline has been selected as the 15th best small company to work for in New York State for 2019. It's the fourth year in a row of being selected as one of the winners by the Best Companies to Work for New York. The criteria for winning is based on a two-part survey: an employer benefits and policies questionnaire, filled out by the employer which counts for 25% of the overall ranking, and an employee engagement and satisfaction survey, filled out by the employees and counting for the remaining 75%. Read below on some insights into some of the reasonings behind our ranking.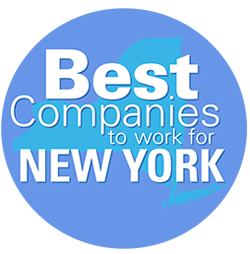 We're proud of our work culture and honored to be publicly acknowledged for the efforts that we take on the employer side. Culture is one of Lawline's main priorities, and it is evident through countless examples that demonstrate our 5 Core Values: Care, Play, Grow, Act and Create.
Care: It is important to work in an environment where team members truly care for each other. A tradition that practices care is Lawline's personalized anniversary gifts for our employees, which have included a subscription to a hot-sauce-of-the-month club, tickets to see The Lion King on Broadway, and even a kit for a craft beer enthusiast to brew her own beer at home.
Play: This core value reminds us to never take ourselves too seriously. Besides having fun conversations at our weekly Thursday lunches, our quarterly team bonding events allows Lawliners to take a moment and connect with each other in a playful environment. Our most recent event was an Escape the Room!
Grow: Lawliners constantly grow professionally as they perfect new skills in their departments. We have several practices in place that promote growth. One of them is the weekly coaching sessions that are mandatory for every employee, even the CEO. The point of this is to be able to track weekly progress, both professionally and personally, and discuss possible solutions if there are any obstacles. The sessions are meant to be a reflective time for both the coach and the coachee.
Act: At Lawline, there's always a strong support system even when you least expect it. Act and care usually go hand in hand because when someone has a 'stuck' moment, there is a coworker there to assist you without even asking. It's a great feeling to know that not everything rests on your shoulder.
Create: In order for a company to keep growing, there are always create moments. The company is constantly pushed to think of annual initiatives, quarterly rocks and priorities, and various methods that keep us aligned. Lawliners are always eager to come up with new methods to create a more efficient workspace. We encourage everyone to share any ideas.
Lawline is honored to have been awarded the #15 ranking for 2019 and looks forward in continuing to improve our culture year after year.
Share this!
Related Posts